From the WIBA Website: Established in 2016 to recognize excellence in Canadian self-publishing, the Whistler Independent Book Awards offers prizes in three categories: fiction, non-fiction and children's books (new for 2022). There are three finalists in each category, with the winners being announced at the annual Whistler Writers Festival.
The Whistler Independent Book Awards are sponsored by The Writers' Union of Canada.
1st Place: Churchill at Munich by Michael Carin
Everything that can possibly go wrong with a novel can and will be laid bare, then magnified in a novel that is written in letters. This is such an enduring truth that most authors should reconsider any thought of it. And yet. And yet! Michael Carin uses the form as a master weaver would use a loom.
Beginning in the first days of 1936, Carin's Churchill at Munich presents itself as a historical document: a trove of letters written by Joffrey Pearson—a low-level German translator working at the British Foreign Office—to a woman not-his-wife living in the United States.
As Joff writes, we learn of the threat rising in Germany. Adolf Hitler tramples the Treaty of Versailles, while Prime Minister Neville Chamberlain plays his part as appeaser-in-chief. It is history as we know it, expertly, thrillingly, threaded with the letter writer's own life.
One thread, richly coloured, is Joff's marriage to his wife (a policewoman). Another, glinting off the page, is his daughter (nine, precocious, and a gifted historian). There are Joff's work and colleagues at the FO. And Joff's best friend since childhood, Damon Chadwich, a noted artist who has recently, alarmingly, become enamored with Berlin.
It's with these threads that the vibrancy and pattern of history unfold. Until a singular event changes everything and Winston Churchill takes up residence at Downing Street. From there, Joff Pearson, whose name has been on the rise, is drawn into an alternate history that, on the page, feels as visceral and real as anything that's ever happened.
"People have a weakness for messiah's, sir. In the case of Germany, the weakness has become a contagion. A whole nation has found what it think is a deliverer," Joff  says to Churchill at a moment when every single thread of the novel starts to pull taut.
With evergreen themes that apply to our own moment in time, Churchill at Munich is a masterpiece of speculative history. A riveting story, stunningly told. A note-perfect composition, and one that could take its place on any literary podium.
Keep a copy for yourself. Give others as gifts. Gift it to public libraries. Make sure everyone you know has a copy and that each of them passes another along.
Finalist: Rez Dog Blues & The Haiku: A Savage Life in Bits and Pieces by William George Lindsay
"Necessary" is a word that gets taken off the shelf often enough in book reviews that it has, according to recent social media memes, become meaningless. If true, then I'm going to reach for a few other words, and insist that William George Lindsay's Rez Dog Blues is essential, needed, indispensable, crucial and vital.
And yet, I'm going to return to necessary. Because, as a reader, a writer and a great-granddaughter of Mennonite settlers of the Canadian Prairies, Rez Dog Blues is a necessary thorn. A thorn that I hope is allowed to prick the consciences, especially, of others like me.
In the quest for Truth and Reconciliation in Canada, Rez Dog Blues is truth. Fictional, yes. But fiction is often where great truths are told. And yet, there are a multitude of other reasons to sift these pages into our collective consciousness.
There is literary beauty and anguish in this prose, brought to us through first person protagonist Liam, a Cree teenager living on the West Coast.
The son of a Residential School Survivor, Liam is marked by the extensive generational scarring that accompanies such an inheritance. Liam's scars have toughened him, to be sure. But they also make him compassionate and restless for more than a short and tragic "Indian" life. A life that asks, "What kind of society enables such behavior. Or causes it?" while recounting babies that sip whiskey from Pooh Bear sippy cups, and "kids doing unspeakable things to kids."
And yet, even in this modern-day apocalyptic environment, born of both cultural and physical genocide, there are hands that reach out to catch Liam. Aunties on the Reservation, especially, are a saving grace. As are certain traditions that the author shows especially well through food. Importantly, certain teachers also help Liam believe in his own potential.
As much reverence as I have for Rez Dog, Author to author, I humbly suggest that, rather than a novel made of Liam's journal, this novel might be further strengthened if were instead the eventual memoir to which Liam alludes throughout.
In past reviews, I've also suggested to writers that a preface, apologizing in advance for certain language and attitudes, doesn't actually cover concerns nearly so well as engaging with literary technique within the prose itself. Young women, for example, are sometimes portrayed here as sexual exploits rather than fully human, when Liam has more than enough empathy as a pov character to clothe them in humanity beyond mere flesh. This would also serve to deepen Liam, already a compelling character.
And yet, I ask readers to take William George Lindsay at his foreword. To pick up this book and share it widely with others. To continue reading and engaging with stories by Canada's First Nations authors. To read this and other Truth and allow it to be a catalyst for ongoing Reconciliation.
Finalist : What Narcissus Saw by Gordon Sombrowski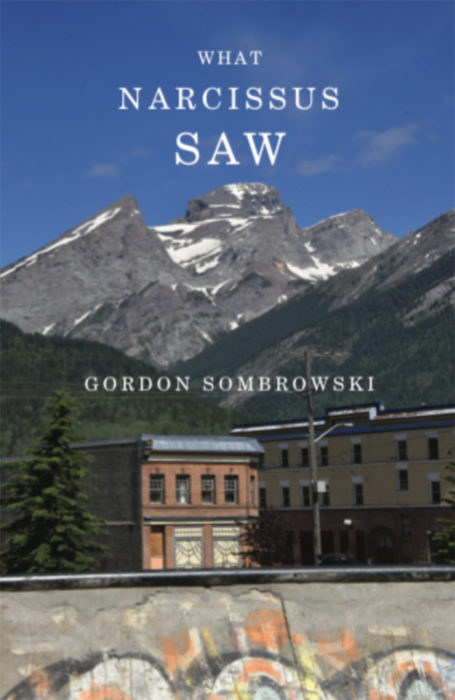 Too few men seem able to write women well. Fewer still able to clothe us in multiple dimensions, delving into the complexity and diversity of our inner worlds. This makes Gordon Sombrowski a rarity among men who write, and one who is much appreciated by this reviewer.
With Sombrowski's short stories, set entirely in the mountain resort town of Fernie, What Narcissus Saw opens this collection on Christmas Day with "In First Tracks." A young man, Matt, who's raison d'etre thus far is to ski and party through the winter, and perhaps his entire life, wakes up in the morning and steps over the near-comatose bodies of his house mates. He takes a morning walk. Outside, Matt stops to shovel the walk of an elderly woman who invites him inside for hot chocolate. This is real hot chocolate, served from a silver chocolate pot. Not only that, but it is served by a real person with a real story. And as stories do, the woman's telling awakens a longing in Matt for a deeper existence.
In "Prelude and Fugue," a piano teacher with a gifted student and a less-than-ordinary son, listens to beautiful music. And "[t]hus [begins] the little tear in the blanket of her love for her son."
"A Wendy" is infuriating in its understanding of how a wildly successful woman can let a lesser man chip away at her identity, time and worth until she's in danger of letting herself be irreparably reduced to his level.
There are few stories in this collection feel in need of further development. For "Risk," one of my most repeated pieces of advice comes to mind: Each character in a story should make the reader love to love, love to hate, or hate to love them. Straight up disliking an assortment of characters in a narrative makes for an unrewarding read (even if intended), as it usually indicates single dimensionality and repetitive character traits.
And yet, bookending this collection is "Friends." Once again, Sombrowski shows his empathic gifts. In this is a deeply moving portrait of new companionship between a widow who attends to a friend as she dies, and the young trans woman who is her friend's nurse.
"Violet felt a tuning fork of vibration touch her fingers, and from there, the frequency spread throughout her body so that when it reached her ears, they felt flooded by a choral sonorousness."
Such is the power of a single touch. Also, as it turns out, a single story.
Darcie Friesen Hossack is a graduate of the Humber School for Writers. Her short story collection, Mennonites Don't Dance (Thistledown Press), was a runner-up for the Danuta Gleed Award, shortlisted for the Commonwealth Writers Prize and the Ontario Library Association's Forest of Reading Evergreen Award for Adult Fiction. Citing irreverence, the book was banned by the LA Crete Public Library in Northern Alberta. Having mentored with Giller finalists Sandra Birdsell (The Russlander) and Gail Anderson Dargatz (Spawning Grounds, The Cure for Death by Lightning), Darcie is represented by Rob Firing at Transatlantic Agency. Her first novel, Stillwater, will be published by Tidewater Press in Spring 2023. Darcie is also a six time judge of the Whistler Independent Book Awards. She lives in Southern Ontario, Canada, with her husband, an international award winning chef.
Darcie is the managing editor of WordCity Literary Journal.